Wow! I'm proper chuffed! I've just found out that the Fear Free Childbirth podcast has been named at number 2 in a list of the top birth and pregnancy podcasts.
So I thought I'd bring out this old pic. I got a bit carried away on this photoshoot – this happens to me a lot! – and I've not had much chance to use this pic. But today feels like I could just about get away with using it – what do you think?
Top Pregnancy and Birth Podcast
The full list includes some brilliant pregnancy and birth podcasts so I feel pretty honoured to have made it so far up the list. Here's the top 5:
The Birth Hour
Fear Free Childbirth <<< that's me!
Pregnancy Podcast
Informed Pregnancy Podcast
The Birthful Podcast
And I get to use this….
I even get to use this lovely rosette to show that I really did make it into a list of the top pregnancy and birth podcasts on the PLANET no less!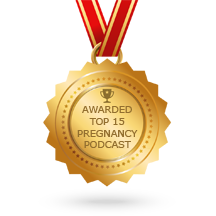 To read the full list visit here.
Latest posts by Alexia Leachman
(see all)