Wow! I'm proper chuffed! I've just found out that the Fear Free Childbirth podcast has been named at number 2 in a list of the top birth and pregnancy podcasts.
So I thought I'd bring out this old pic. I got a bit carried away on this photoshoot – this happens to me a lot! – and I've not had much chance to use this pic. But today feels like I could just about get away with using it – what do you think?
Top Pregnancy and Birth Podcast
The full list includes some brilliant pregnancy and birth podcasts so I feel pretty honoured to have made it so far up the list. Here's the top 5:
The Birth Hour
Fear Free Childbirth <<< that's me!
Pregnancy Podcast
Informed Pregnancy Podcast
The Birthful Podcast
And I get to use this….
I even get to use this lovely rosette to show that I really did make it into a list of the top pregnancy and birth podcasts on the PLANET no less!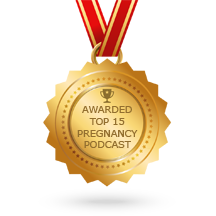 To read the full list visit here.
Alexia is the host of the Fear Free Childbirth podcast and the author of Fearless Birthing, Childbirth, Midwifery & the Media, and Clear Your Head Trash.

Alexia supports families planning pregnancy and birth. She helps them to overcome their fears and feel calm and confident about birth and pregnancy.

Alexia also trains birth professionals in the Fearless Birthing, a unique approach to birth preparation that is ideal for those who have fears around birth.
Latest posts by Alexia Leachman (see all)